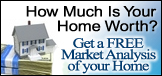 Discover the People Advantage At American Associates, Inc. Realtors & Builders
American Associates was built on the philosophy that quality, blended with excellent service, is the foundation for a successful business relationship.
With over 1 Billion in local real estate sales, their professional Realtors have helped more that 10,000 families find a home! They'd like to help you too! Serving all of Southeast Michigan.
We've Always Been Proud to be American!
Over 510,000 Flags Given Away!